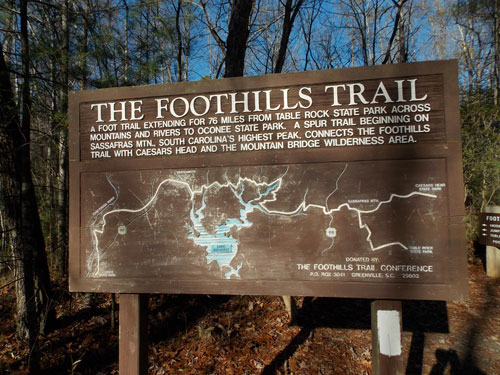 In the mid 1960s the push began to protect the rugged beauty of the Appalachian Foothills, while at the same time make them more accessible. Informal discussions by interested people in the Upstate—including Clemson University's Recreation & Park Administration Department and the U.S. Forest Service—initiated the development of the Foothills Trail. The United States Forest Service built the first component of the trail linking Table Rock State Park to Oconee State Park in Sumter National Forest. In 1968, construction began on a section of trail that followed ridge lines and descended into river bottoms, yet only about one-fifth of the present trail in Sumter National Forest follows the original layout.
By the early 1970s, the Foothills Trail effort was gaining significant momentum. A firm geographic concept of the trail layout was formed with collaboration from the U.S. Forest Service; the South Carolina Department of Parks, Recreation and Tourism; the Pendleton Historic and Recreational Commission; Duke Power Company's Real Estate Department; and Clemson University's Recreation and Park Administration Department.  Concurrent with these activities, Duke Power Company was in the process of planning the entire Bad Creek Hydroelectric project.  In addition to designing this new project, recreational planning was also occuring.  Typically, a federally issued license permitting construction of a hydroelectric project includes provision for public utilization of the project's recreation resources.  However, the small, upper pool of the project with its 60% slopes and 160 foot water level fluctuation was clearly unsuitable for public recreational use.  Instead, Duke Power offered to build and maintain the central section of the Foothills Trail.
As interest in the establishment of the Foothills Trail increased, a formal unifying entity was needed. The Foothills Trail Conference was established on May 23, 1974 as a non-profit 501 (c) (3) organization to promote and support the development of the Foothills Trail. It established as its purpose "the coordination of groups and individuals interested in advancing, completion, use and maintenance of the Foothills Trail."  The Conference was structured to consist of clubs, individuals and managing agencies interested in the use and maintenance of the trail.  Bylaws were adopted, a Board of Directors was elected, and plans for the implementation of the objectives, such as route selection, setting of construction and marking standards were determined.  The Foothills Trail Conference is a membership organization, for more details or to become a member click here.
The 77-mile trail linking Oconee and Table Rock State Parks was in place by 1981.  The Conservancy has promoted and supported the trail by developing the Foothills Trail Guidebook and map, trail maintenance, and contributing to publications about the trail.  In November of 2018, the name of the organization was changed to the Foothills Trail Conservancy.
Here are a few of the major re-routes that have been completed:
In Bearcamp creek area, re-route took the trail toward Hilliard Falls
Trail was moved away from Whitewater Falls and over Grassy Knob
Along the Pinnacle Trail inside Table Rock State Park