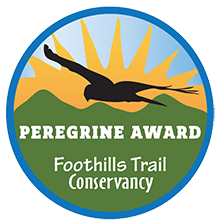 The Peregrine Award is presented to hikers who complete all 77 miles of The Foothills Trail—from Oconee State Park to Table Rock State Park. The award was started in 2011 in honor of longtime FTC member Heyward Douglass. The word "peregrine" comes from the Spanish word "peregrino," which means pilgrim. It is also the name of one of Heyward's favorite birds; he was instrumental in the re-introduction of the Peregrine Falcon to the mountains of Upstate South Carolina. To receive the award, hikers must meet the following requirements:
Hike all 77 miles of the Foothills Trail. This may be in a single through-hike or multiple section hikes over a period of time.
Be a member of the Foothills Trail Conservancy at the time of award application. Join on-line here.
Apply for the award, which includes submitting a report of your hike(s) and describing your experience, best moments, etc.
There are two ways to apply for the Peregrine Award: