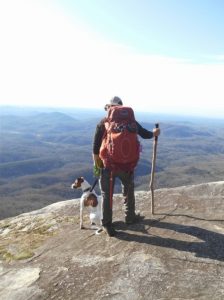 I started my hike on Sunday February 16th from Oconee State Park. My wife dropped me, and my dog Spencer, off at 10:45am and after our goodbyes and a few pictures, we set off on our journey.
I was meeting a friend Wednesday evening at the Bad Creek access area so we had planned to take our time hiking those 33 miles so we would arrive there on Wednesday. On our first day we hiked 8.1 miles and completed the first two sections and made camp shortly past Nicholson Road. I got to meet several interesting and nice people that were making the short hike to Lick Falls.
We were on the trail by 9am on day 2. We would maintain about a 2.5 mile per hour pace for the day. We really enjoyed the short hike to Hidden Falls. IT set the stage for the many great waterfalls we would enjoy along our hike. We had reached Burrells Ford by 1pm and pushed on towards Fish Hatchery Road. Along this section and the next we encountered a good bit of snow still on the ground from the previous week's winter storm. I had planned on making camp for the evening along the spur trail below Grassy Knob that led to 281, but there was too much snow on the ground. We decided to climb to the ridge and found the perfect site for the evening atop the ridge. We made camp around 5:30 that evening and finished with a total of 20.5 miles for day 2. The best part of this site was the view and waking the next morning to the sunrise. I had many great campsites along the trail but this one would prove to be the best.
Day 3 started only 4.8 miles from Bad Creek, where I was meeting my friend the next day. We took our time breaking camp and were on the trail by 11am. We made quick work of the rest of the section and had made it to Upper Whitewater Falls a little after noon. We took a quick break at the falls to enjoy the view and snap some pics and then pushed on towards bad creek. We had reached the access area by 2:30 that afternoon so I decided to push on past to the Thompson River and grab one of those sites. It was a good call since it kept us on the trail longer and we ended up with another awesome site. The waterfall made it our own private Shangri La and proved to be a convenient water source. That night as we slept we were entertained by a wild thunderstorm. What a great way to fall asleep, as the rain pattered against my tarp and the thunder boomed and lightning lit up the evening sky! We finished up with a little less than 10 miles for the day.
Day 4 was going to be all back tracking since we had to hike back to Bad Creek to meet my friend. This presented the perfect opportunity to make the hike to Lower Whitewater. I was very impressed by the size and power of this waterfall! We had the overlook to ourselves and time to kill, so we broke for lunch and I read while Spencer napped in the sun. We hiked back up to the Whitewater River and took another break killing time until the hike to the access area. Around 4:15 we started the hike to the Bad Creek parking lot. My friend arrived at 5:30 and I restocked my food and we decided to night hike to the site on the ridge above the Thompson River. While the solitude of the first part of my hike was very nice it was good to have company.
Day 5's goal was to get to Canebrake and finish the section. We had gotten to the more strenuous sections of trail and it was quite noticeable. We were hiking by 10 till 10 and our first stop was Hilliard Falls. Another great waterfall and we got to see a wild turkey, actually flying which was rare. This was one of the few instances I saw wildlife along my hike. We finished the section and hiked a little over a half mile into the next so we could get a site in Gorge State Park along the Toxaway River. The suspension bridge was amazing! We were exhausted by the time we set up camp so we ate dinner and then hit the sack. Mother Nature entertained us again with another mighty thunderstorm and downpour. 13.1 miles total for the day!
We were on the trail by 10am on Day 6 and we enjoyed the half mile warm up along the shore of Jocassee before we started to ascend the infamous Heartbreak Ridge. Perhaps it was because we were hiking West to East, but it turned out to be not nearly as bad as we were expecting. It got our heart rates elevated but it failed to break us! 🙂 We completed this section then broke for lunch at Laurel Fork Falls. From there we pushed on towards Laurel Valley. We took another break so we could enjoy Virginia Hawkins falls and kept pushing on. We reached the end of the section by 5:30 PM. We camped at the site right next to the Laurel Valley parking lot. It wasn't the perfect site but it was perfectly timed! We finished with 13.2 hard miles for the day and ate dinner then took our aching feet to bed.
Day 7 was going to be one of our shorter and easier days! We planned on hiking to Drawbar Cliffs and making camp there so we would only have a 5 mile hike on our final day. We started with two short sections to Chimney Gap and then to Sassafras. The Guidebook rated these sections as moderate to easy, I assume because of the short distance. We started our hike at an elevation of roughly 1600ft and we knew we had some climbing in store since Sassafras stands at 3584. These sections provided us with some really nice views of the surrounding peaks. We had reached Sassafras by 10 till noon. We took our time there taking a lot of pics and talking to a nice couple. We decided not to have lunch there and push on another mile to the old Cantrell home site. Since we only had about 3.5 miles left to camp, we lounged around after eating basking in the warm sun. About an hour later we put the packs back on and headed toward the Cliffs. We arrived at camp by 3:30 and explored the Cliffs and the Lighthouse. This was an awesome site and from atop the giant rocks we could see for miles and got the privilege of watching a beautiful sunset. It was an evening of mixed emotion for me. After a week on the trail I had made it to my last night. I was sad to see the simple existence I had while in the woods coming to an end but at the same time I was excited to be accomplishing this thru-hike and going home to see my wife. We finished up with 9.4 miles for the day.
Day 8, my final day on the trail, started early. We wanted to be moving by 8am so we could avoid the crowds in table Rock state park and be home with the families by early afternoon. We were on the trail by 8:05, not bad! It was a short 5 mile hike to finish up our journey, and the majority of that was downhill. We briefly paused at bald rock to take in the spectacular views and snap a few more pics. We counted down the miles as we moved down the mountain towards the nature center. We had reached my car by 10:30 am and my journey was complete! We finished with 5 miles on the day.
What an experience! I could not have asked or hoped for anything better. Mother Nature smiled upon me with great weather! I had both time to be alone and reflect and time with great company to share in my experience. This is a week that will stay with me forever. I am very proud to have accomplished this feat and I'm already looking forward to my next journey along the trail. Until we meet again….